---
The interprofessional longitudinal Health Mentors (HM) program is a unique educational experience in which teams of students from different disciplines learn together from and with a mentor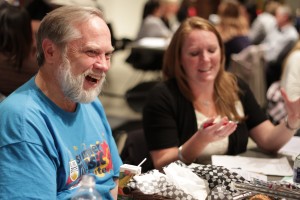 (patient/client) with a chronic condition or disability (an expert in their life).
Over the course of the program (9 months – Fall and Winter Terms) the student teams (4 students per team) will visit their mentor twice a semester, each visit focusing on specific topics.
The HM program was piloted in the Fall of 2011 with a target of 20 health mentors and 100 students from at least 6 different health and human service programs at UBC. It has since expanded to 50 mentors and 200 students. Funding for the project has been obtained from the Office of the Vice-Provost Health and UBC Teaching and Learning Enhancement Fund.
Program goals
♦ The HM program will help students learn about chronic disease and about the range of work involved in chronic disease self management (CDSM) from the perspective of the patient and family and to explore their roles (as individual practitioners and interprofessional teams) in supporting CDSM (addressing psychosocial as well as biomedical needs).
♦ The HM program will help students to develop interprofessional competencies in patient-centred care, especially to understand and value the patients' individual experience (including psychosocial aspects) and involve the patient as a partner in health care (sharing power and responsibility).
♦ The HM program will also permit students to meet discipline-specific objectives in related topics such as the social determinants of health and communication skills.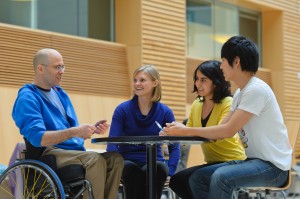 To apply to be a Health Mentor, please fill out and submit an application form:
2019-20 Application Form for Caregivers
2019-20 Application Form for Mentors
For more information contact:
Jen Macdonald, Health Mentors Program Coordinator
Email: jen.macdonald@ubc.ca  | Phone: 604-822-8002
UBC Interprofessional Health Mentors Program Symposium : A Space for Knowledge Exchange (2013)
Interprofessional Health Mentors Program : Celebrate Learning Poster (2012)

---