---
The Division of Health Care Communication has partnered with Fraser Valley Aboriginal Children and Family Services Society (Xyolhemeylh) since 2006 to offer a unique interprofessional community-led educational experience for health professional students at UBC.
The award winning program was developed to improve health care through culturally relevant community-based initiatives, including the specific training of health professionals to deliver culturally appropriate care.
Health professional students participate in three or four day cultural camps that aim to bridge the gaps of communication and trust between Aboriginal clients and their future health care providers.
Camps are led and organized by community elders, family intervention workers, and youth leaders.  On- and off-reserve children and teenagers are gathered into a secluded and peaceful environment where they can reconnect with their rich history and culture.
UBC students from across the various health professions have an opportunity to engage with and experience Aboriginal culture.They are seen as good role models and sources of information for the youth. They provide health related workshops (topics chosen by the community) in exchange for their learning experience.
Common topics include: sexual health, drug use, mental health & self-harm, nutrition, doctors' roles and responsibilities (e.g. confidentiality) and how to become a doctor, social worker, nurse, etc.
For more information about the camps and to get involved, please visit the program website or contact Ceara Claridad at ceara.claridad@alumni.ubc.ca
2019 Summer Camps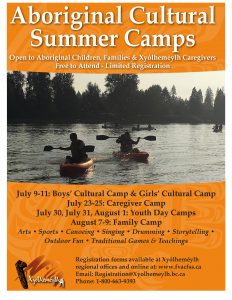 ---