Medical Student's Project Aims to Share Voices of People Living with Spinal Cord Injury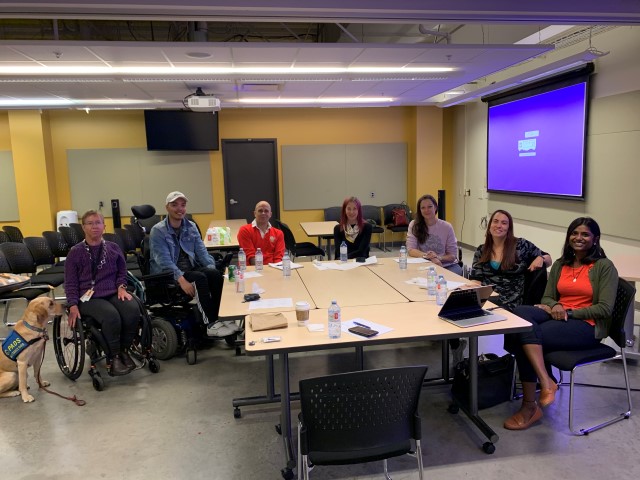 Harani Ramasamy (right), a 2nd year medical student, is working with Spinal Cord BC to develop a workshop for the Patient & Community Voices workshop series. Bridging Barriers: Voices of Spinal Cord Injury will be ready to pilot with students in November.
"We hope that this project will promote collaboration between healthcare students and the SCI population to establish better patient-centered care. The unique voices shared by community educators are compelling and can help healthcare students embody empathy in their future clinical decision making when treating patients with spinal cord injury," says Harani.
While the medical curriculum aims to address the medical management of spinal cord injuries (SCI), the real challenges and unique psychosocial needs of people from this community are not emphasized. With the help of UBC Patient & Community Partnership for Education (PCPE), Harani and fellow student Faraz Bateni, partnered with Spinal Cord Injury BC to establish a working group of community members with SCI, UBC faculty and other experts in the field. This project will be an addition to the ongoing Patient &
Community Voices workshop series offered by PCPE.

"The academic setting in medicine generalizes disease and undervalues the individual experience. Our goal is to share the voices of people living with spinal cord injury to highlight the complexities of the patient experience. The unique perspectives offered by this patient population can help healthcare students better appreciate the impact of symptoms on the patient's life and provide more compassionate care," says Harani.

The working group has met twice to collect stories and set the learning objectives for the workshop. The narratives shared by the community educators are powerful and reveal shortcomings and discrimination in their healthcare. Common themes include: the lack of education of health professionals about SCI; mistreatment and harmful assumptions in the hospital; and the significance of being one's own health advocate. They identified several barriers to their well-being and shared their perspectives on what is most pertinent for healthcare students to know. The working group collaboratively developed the workshop objectives and case scenarios that best reflected the learning objectives for students. A pilot workshop with a small group of healthcare students will take place in November to gather feedback and assess the workshop outcomes.
This project was initiated as part of the FLEX course component of the Undergraduate Medical Program at UBC which allows students to engage in self-directed learning opportunities. FLEX encourages students to pursue activities that incorporate personal interests, critical thinking, innovation, and social advocacy.