Public Consultation Informs New Mission Statement for UBC's Medical School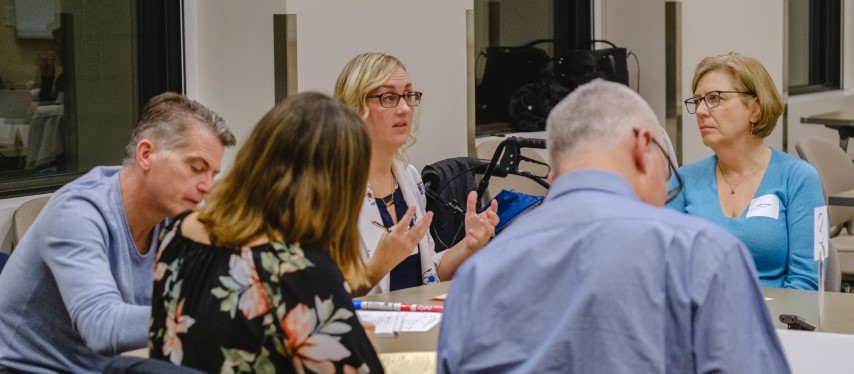 A year ago patients, caregivers, and community leaders were invited to participate in a consultation designed and facilitated by Patient & Community Partnership for Education (PCPE) on behalf of the UBC MD Undergraduate Program (MDUP) to provide public input into a review of the medical school's curriculum.

PCPE produced a report and video from the consultation for the curriculum review working group. Special efforts were made to include voices of those who are not normally heard by educational decision-makers.

The medical school is now in the final stages of approving a new mission statement and will be updating the competencies that every graduating UBC medical student must meet.

"Input [from patients, caregivers, community leaders] was a crucial piece of work that will inform the knowledge, skills and attitudes that must be observed before our students become physicians. Thank you, from the bottom of my heart, on behalf of the MDUP Curriculum Review Working Group," says Cheryl Holmes, Associate Dean, Undergraduate Medical Education.
New Mission Statement:
The University of British Columbia's MD Undergraduate Program strives to provide exemplary distributed medical education that prepares our learners to provide optimal healthcare for the diverse populations in BC and beyond, including Indigenous Peoples, rural and remote communities, and other populations experiencing health inequities*.
The Program is grounded in the Faculty of Medicine's vision "Transforming Health for Everyone", and embodies the values of respect, integrity, compassion, collaboration and equity.
*Other populations experiencing health inequities includes but not limited to: Frail elderly, gender nonbinary and LGBTQ+, minorities including racialized and immigrant populations, refugees and language minorities, low socioeconomic status especially children of low-income families, persons living with disabilities and chronic health needs including mental health and addictions issues