Happy Holidays from PCPE!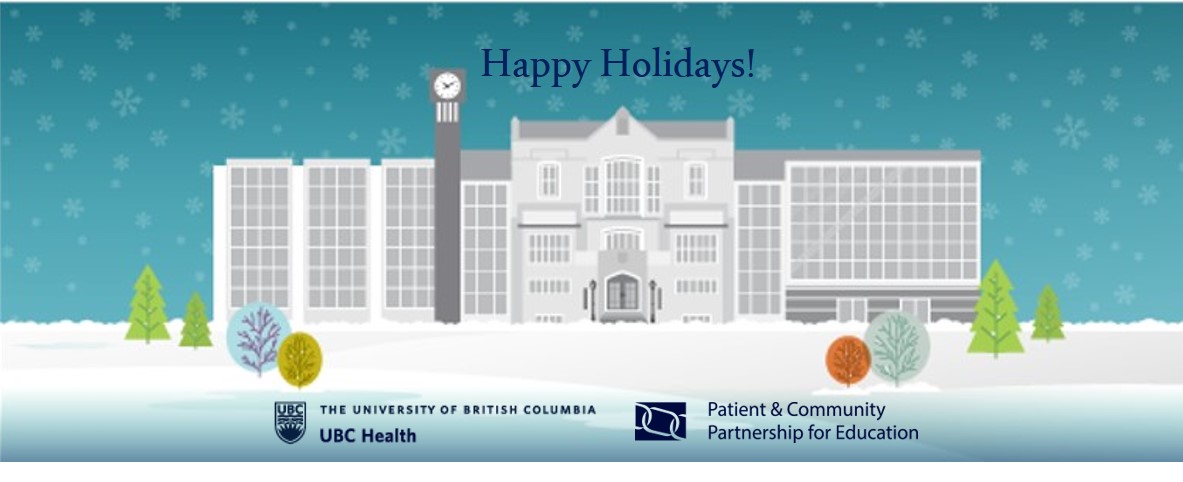 2019 was another good year of new partnerships and projects! We started the 9th cohort of the Health Mentors program and added two new workshops to the Patient & Community Voices series in collaboration with Spinal Cord Injury BC and Megaphone Speakers Bureau.
We also completed a multi-year project to redesign meetingofexperts.org to be a virtual hub for patient engagement at UBC and filled new requests, including a patient panel about end-of-life care which was part of a philosophy course on bioethics.
We continue to be inspired by the commitment of our patient and community partners to the education of the next generation of health professionals and by the enthusiasm from students and faculty for more opportunities to learn from them. We are committed to documenting and disseminating the outcomes of these collaborations to strengthen institutional support for the integration of patient expertise and experiences into mainstream educational practice in all health professional programs at UBC.
Thank you for being part of the work to bring patient and community voices into health professional education. We look forward to continuing the journey together in 2020!
Wishing you a joyful holiday season and happy new year!
Cathy, Jen, Ceara, Kurtis, Angela & Bill