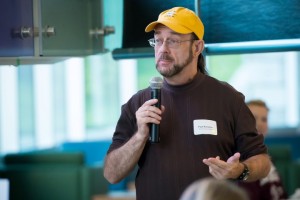 Call for Nominations for the R. Paul Kerston  Community Educator Award!
Do you know a patient / community member who has made a difference to student learning at UBC?
This annual award recognizes patients /community educators who have expanded student learning beyond traditional professional boundaries.
Eligibility Criteria
For a patient / community educator who has made an outstanding contribution to student learning and/or student professional development in health and human service programs at UBC.
Faculty are not eligible.
Health professionals are not eligible.
Previous award winners are not eligible but other nominees can be nominated again.
Nomination Process
Can be nominated by anyone (student, community member, community agency, staff, faculty) but must be seconded by at least one student.
Complete a nomination form stating why the nominee is deserving of the award and providing supporting evidence (e.g. written description, testimony from witnesses, quotes from students, film, art work, supporting photos).
Adjudication Process
Adjudication committee: small committee consisting of at least one student, community member, UBC Division of Health Care Communication member.
Adjudicators will consider factors such as the number of students impacted, length of time and nature of the impact on students (e.g. instills values of interprofessional practice, patient-centred care, accessibility, lived experience, holistic learning, community engagement by students).
Nomination deadline: June 30th.
Send your nominations to: Cathy Kline at cckline@mail.ubc.ca
Review process: July/Aug
Award(s) announced: Fall, 2016
2015 Awardee

Paula Carr, a Community Strategist and Intercultural Neighborhood Developer with Collingwood Neighborhood House, has collaborated with UBC since 2004. She helped produce an award winning film titled, "Where Strangers Became Neighbours" that has been used in 6 or more UBC courses. This film illustrates the importance of an intercultural community development approach when working with an interprofessional team of community partners and diverse neighbourhood populations (e.g., immigrants, those living on low income, aboriginal people, people with disabilities, people with mental illness). Since 2011, Paula has been involved in a project called RC INTERactive where she has supervised numerous UBC students doing community-based experiential learning projects. Paula is also co-author of a chapter that is a case study of RC INTERactive, the community-university partnership that has a community engagement component for students.
2014 Awardees
Mo Korchinski is a founding member of Women in2 Healing (Wi2H), a not-for-profit community-based organization of formerly incarcerated women, volunteers and academics who seek to improve the physical, emotional and social healing of women inside and outside of prison by engaging in participatory research processes. She visits schools, colleges and universities to share her story and findings from Wi2H research projects with students.
Tiare Laporte helped develop a speech and audiology course, titled: Approaches to audiology and speech-language pathology for persons of First Nations, Metis or Inuit heritage. She facilitated community learning experiences for over 160 audiology and speech-language pathology students and serves on the school's Advisory Council.