---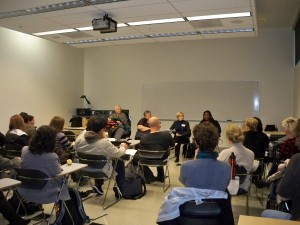 Patient panels are offered at the annual Community and Patient Fair in late October. The panels are an opportunity for patients and care providers to speak to and open a discussion with students in the health disciplines.
During the panels 3 to 4 patients share their stories and experiences with students, and answer questions.
Panels run for approximately one hour and are focused around a range of issues, such as the everyday management of health concerns, experiences in the health care system, and challenges to effective communication.
  A list of the 2014 patient panels includes:

Living and communicating with aphasia
Aphasia is a communication disorder that is the result of brain injury, most commonly stroke. This panel will cover what aphasia is and the range of different ways that it can affect individuals. Patient experts will present information about their communication challenges, describe their experiences in the health care system, and the ways in which their needs have changed over the course of their recovery.
Experiences of the health care system
In this panel, community members or patients discuss their experiences of navigating the health care system. Topics addressed can include getting diagnosis and treatment for a chronic health concern and the difficulties patients face in the care of their illness.
---
---
Barriers to health care communication
This panel will focus on effective communication between patients and health care providers. What obstructs good communication? What, from a patient's point of view, could improve communication with health care providers? How should health care professionals ask difficult, but necessary, questions? This discussion will be rooted in the patients' own experiences communicating with health care providers, from the perspective of their individual health concerns.
Spirituality & Illness
We've all learned that the two things to avoid at the dinner table are politics and belief systems. Many health care providers take the same approach when communicating with their patients. However belief systems can be an important factor to an individual's health and well-being. This panel will explore how spirituality and illness relate to one another and offer insight into how health care providers can support patients in integrating western medicine with individual belief systems
Health & Money
The World Health Organization has declared poverty as the single largest determinant of health – in this panel we will explore how money affects health and health care. The discussion will focus on how health care providers can meet patients where they are at and support them in their journey.
---
Queer Competency in Health Care Settings
Queer Competency Trainings provide practical tools and key concepts for service providers, businesses and community groups to create safer and more inclusive spaces for LGBTQ clients, colleagues and community members.
Experiences of Chronic Health Concerns
In this panel, community members or patients discuss their experiences of living with a chronic illness and what they would like future health care professionals to know about their particular health concern.
Living a life of recovery with mental illness
In this panel, members of the Recovery Narrative Project will share their life experiences with mental illness and recovery, including the stigma of mental illness and how quality of life helps the journey of recovery. This discussion will emphasize the shift in the mental health system (Consumers, Family/Supporters/ Service Providers)from a medical model of mental health and illness (something is broken, try to fix it) to a recovery model (patient-centred, building upon the individuals strengths).