---
The Division of Health Care Communication
The Patient & Community Voices project is coordinated by the Division of Health Care Communication (DHCC) in the Office of the Vice-Provost Health at the University of British Columbia. Established in September of 1996, the DHCC works to promote a partnership model of patient/client and health professional communication that is in line with current trends in health care, including evidence-based practice, client-centred care and informed and shared decision making.
In November 2005, the DHCC organized the 1st international conference on Where's the Patient's Voice in Health Professional Education? in Vancouver, Canada. The conference brought together patients, educators from different health professions, researchers, and students to share experiences and ideas. 134 presenters illustrated many ways in which patients or community are becoming involved in health professions education in countries such as the UK, Canada, USA and Australia.
With funding from the UBC Teaching and Learning Enhancement Fund (TLEF), the Patient and Community Voices Project began in 2008. The first phase of the project focused developing partnerships between the university and the community. We piloted interprofessional workshops with three community groups that could be used as models for bringing patients and community members into health professional education.
Following the success of those workshops, we formed an Advisory Board, comprised of community, students and faculty. The Advisory Board guided the development, evaluation, and implementation of interprofessional, community-led education activities for health professional students at UBC from 2008-2011.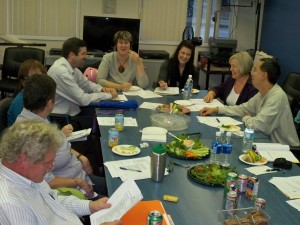 The Founding Advisory Board members included:
Community members: Barbara Bawlf (Richmond Mental Health Consumer and Friends Society); Stephanie Laeser Hunter (PeerNet BC); Lisa Hutcheon (Heart and Stroke Foundation); Paul Kerston (BC Persons with AIDS Society, now Positive Living Society of BC); Sue Macdonald (Canadian Mental Health Association (Vancouver-Burnaby Branch); Kathryn Sykes (BC Epilepsy Society)
UBC Faculty: Connie Canam (School of Nursing); Marion Clauson (School of Nursing); David Fielding (Faculty of Pharmaceutical Science); Wendy Hall (School of Nursing); Michael Lee (Occupational Therapy Program); Sue Murphy (Department of Physical Therapy); J. Craig Phillips (School of Nursing)
Students: Sasha Bossley (Occupational Therapy); David Chiu (Counselling Psychology); Albert Chong (Pharmacy); Andrea Harstone (School of Social Work); Jo-Ann Morrison (School of Social Work)
In 2009, we developed and launched an annual Community and Patient Fair for Health Professional Education, entitled Health Care Involves Everybody. The Fair was well-attended and received a lot of positive feedback from students, faculty and community members.  The Community and Patient Fair, re-titled as "Allies in Health Care," has become a popular annual event.
Following the completion of TLEF funding for the Patient & Community Voices Project, the Founding Advisory Board was dissolved in March 2011. The Division of Health Care Communication (DHCC) continues to coordinate community-led interprofessional workshops for health professional students. The Division also works in partnership with the community to  host the annual Allies in Health: Community and Patient Fair during UBC Learning Week in late October.
In 2011, DHCC received funding from the UBC TLEF and the Office of the Vice-Provost Health to support a new initiative, the Interprofessional Health Mentors Program. In this longitudinal (16-month) interprofessional program, teams of students from different disciplines learn together from and with a mentor (patient/client) with a chronic condition or disability (an expert in their life). The first cohort started in September 2011, and included 23 mentors and 92 students from six UBC health professional programs (Dentistry, Medicine, Nursing, Occupational Therapy, Pharmacy, and Physical Therapy). A Steering Committee, comprised of community members, current health mentors, Faculty, students, and the DHCC Project Coordination Team, was established in Fall 2011 to guide the planning, evaluation, and implementation of the Health Mentors program.
Click here for more information about our current activities.