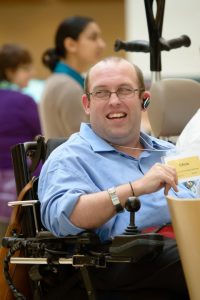 Congratulations to Chris Hofley who is the recipient of the 2017 R. Paul Kerston Community Educator Award.
Chris has had many roles at UBC – a Health Mentor, panelist, co-author and steering committee member.
As a member of the Health Mentors Steering Committee Chris has played an important role in the program's development, implementation, and dissemination. He presented at Collaborating Across Borders in 2013 and published a paper in the journal The Clinical Teacher in 2014.
Chris' innovative teaching style makes learning meaningful and fun. He shows students that, "Even though I am in a wheelchair, I can do almost anything an able bodied person can do. I just have a different way of doing it."
Read what Chris' students say…
The Kerston Award will be presented to Chris at the UBC Health Awards reception in February.